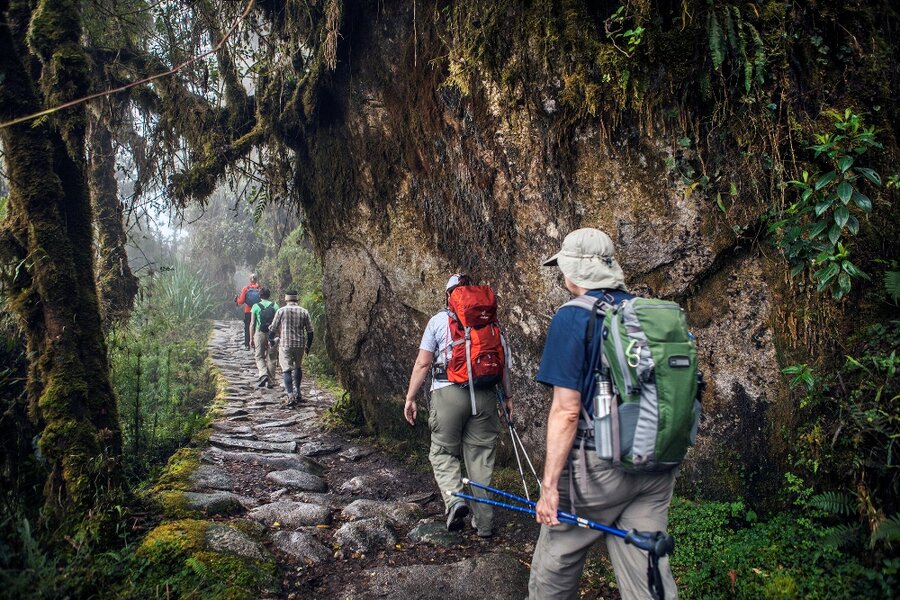 South America, a land of breathtaking landscapes and natural wonders, offers an unrivaled playground for adventure enthusiasts and nature lovers.
From the rugged peaks of the Andes to the lush rainforests of the Amazon, this continent is a paradise for hikers and trekkers.
In this article, we will explore some of the most spectacular trails in South America, where you can immerse yourself in the region's rich biodiversity, stunning vistas, and vibrant cultures.
The Inca Trail, Peru:
The Inca Trail is a world-renowned trek that takes you on an unforgettable journey through the Peruvian Andes, culminating in the awe-inspiring ruins of Machu Picchu. This ancient footpath winds its way through breathtaking landscapes, rich in natural beauty and historical significance. In this guide, we will explore how to embark on this remarkable adventure, what to expect along the way, and the treasures that await you at the end of the trail.
Getting There:
To begin your Inca Trail adventure, you'll first need to travel to Cusco, the gateway city to Machu Picchu. Cusco is well-connected by air and can be reached from major cities in Peru, as well as international destinations.
From Cusco, you can arrange transportation to the trailhead, usually in the town of Ollantaytambo or Kilometer 82, where the trek commences.
Permits and Guides:
The Inca Trail is a popular route, and to preserve its fragile ecosystem, the Peruvian government strictly limits the number of visitors per day. It is imperative to obtain a permit in advance, especially during the high season (May to September). Hiring a licensed guide is mandatory, and they play a vital role in providing historical and cultural insights throughout the trek.
Duration and Difficulty:
The classic Inca Trail typically takes four days and covers approximately 43 kilometers (26 miles). It is considered a moderate to challenging trek, with several steep ascents and descents.
A good level of fitness and acclimatization to the altitude is recommended. Altitude sickness can be a concern, so it's advisable to spend a few days in Cusco before starting the trail.
Highlights and Itinerary:
The Inca Trail is more than just a hike; it is a journey through time and ancient history. Here is a brief overview of the trail's highlights:
Day 1: The trek begins with a gradual ascent, passing through stunning mountain landscapes and small archaeological sites. The first campsite is at Wayllabamba.
Day 2: This is the most challenging day, as you ascend to the highest point of the trail, Dead Woman's Pass (4,215 meters or 13,828 feet). Take in the breathtaking panoramic views before descending to the campsite at Pacaymayo.
Day 3: Trek through diverse ecosystems, including cloud forests and high-altitude plains. Visit the archaeological sites of Runkurakay and Sayacmarca. The day ends at the campsite near Wiñay Wayna, where you can explore impressive Inca ruins.
Day 4: Rise early and trek to Inti Punku, also known as the Sun Gate, to witness the magical sunrise over Machu Picchu.
Descend into the ancient citadel and spend the day exploring its enigmatic ruins with your guide. Afterward, return to Cusco by train and relish in the memories of your remarkable journey.
Essential Tips:
Pack essentials such as sturdy hiking boots, comfortable clothing, a waterproof jacket, a hat, sunscreen, insect repellent, and a good-quality backpack.
Stay hydrated and bring a reusable water bottle as there are refill stations along the trail.
Pack snacks and energy bars to keep you fueled during the trek.
Respect the environment by following the "Leave No Trace" principles and disposing of waste properly.
Take it slow, especially during steep ascents, to allow your body to adjust to the altitude.
Embrace the cultural experience by interacting with locals and learning about their traditions.
---
Torres del Paine Circuit, Chile:
Located in the breathtaking Torres del Paine National Park in Chilean Patagonia, the Torres del Paine Circuit is a challenging trek that rewards intrepid adventurers with jaw-dropping scenery. The 10 to 11-day circuit takes you around the iconic granite towers, through lush valleys, turquoise lakes, and impressive glaciers. Be prepared for changeable weather and embrace the raw power of nature in one of the world's most remote and pristine wilderness areas.
---
Santa Cruz Trek, Peru:
Nestled in the Cordillera Blanca range of the Peruvian Andes, the Santa Cruz Trek offers an unforgettable journey through stunning alpine landscapes.
This four-day trek takes you past sparkling lakes, snow-capped peaks, and vibrant wildflowers, showcasing the natural beauty of the region. Immerse yourself in the local Quechua culture, encounter llamas and alpacas, and marvel at the majesty of peaks like Alpamayo and Huascarán.
---
More Trekking Places in South America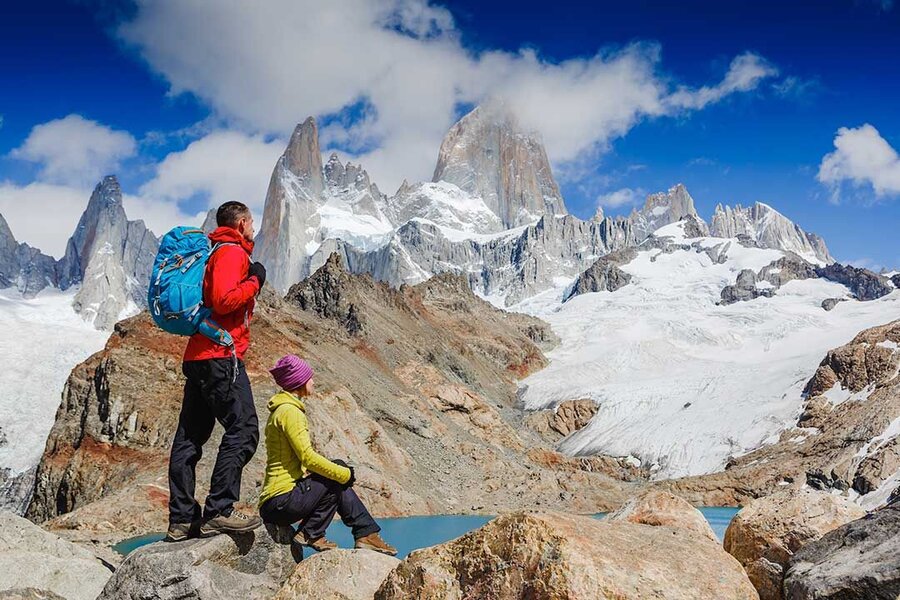 Los Glaciares National Park, Argentina:
Located south of the Andes in Argentina, Los Glaciares National Park is a fascinating UNESCO World Heritage Site that attracts adventurers and nature lovers alike.
With vast glacial landscapes, towering glaciers, and rugged wilderness, this national park offers an immersive experience for those seeking awe-inspiring natural beauty. In this guide, we'll tell you how to get to Los Glaciares National Park, what to do when you get there, and the captivating wonders that await you.
Getting There:
To access Los Glaciares National Park, you'll typically fly into El Calafate, a charming town in the Patagonian region of Argentina.
El Calafate has an international airport with regular flights from major cities in Argentina. From El Calafate, you can take a bus or arrange private transportation to reach the park's main entrance.

Experience the awe-inspiring wonders of Patagonia with 01Argentina Travel Agency! Embark on a breathtaking adventure departing from the vibrant city of Buenos Aires and immerse yourself in the untamed beauty of this captivating region.
Perito Moreno Glacier:
One of the park's most iconic features is the Perito Moreno Glacier, a colossal ice formation that captivates visitors with its striking blue hues and dramatic displays of calving. Explore the network of well-maintained trails and walkways that offer breathtaking viewpoints of the glacier.
For a closer encounter, consider taking a boat tour that allows you to marvel at the glacier's towering walls from the water. Don't miss the opportunity to witness and hear the thunderous cracks as chunks of ice break off and crash into the lake below.
Fitz Roy Trek:
For the avid hiker, Los Glaciares National Park offers the renowned Fitz Roy Trek, a challenging yet immensely rewarding adventure. The trail starts from the town of El Chaltén, known as the hiking capital of Argentina.
The trek leads you through rugged mountain landscapes, crystal-clear rivers, and dense forests, culminating in stunning views of Mount Fitz Roy and the Cerro Torre. Hikers can choose between various trails of different lengths and difficulty levels, catering to both experienced trekkers and those seeking shorter day hikes.
Ice Trekking on Perito Moreno Glacier:
For an unparalleled glacial experience, consider embarking on an ice trekking excursion on Perito Moreno Glacier. Equipped with crampons and guided by experienced mountaineers, you can walk atop the glacier's massive ice formations.
Explore ice caves, and witness the sheer magnitude of this frozen wonderland. It's a once-in-a-lifetime opportunity to intimately connect with the glacier's beauty and power.
Boat Tours:
Cruising along the turquoise waters of Lake Argentino offers an excellent perspective of the park's landscape. Take a boat tour to explore the Upsala and Spegazzini Glaciers, marvel at their towering walls, and witness the immense scale of these icy giants. The boat tours provide a unique vantage point to soak in the tranquility and grandeur of the surrounding landscapes.
El Chaltén:
Make sure to allocate some time to explore the charming village of El Chaltén, a vibrant hub for outdoor enthusiasts. The town offers a range of accommodations, restaurants, and equipment rental shops. Additionally, El Chaltén serves as the starting point for several other scenic hikes, including Laguna de los Tres and Laguna Torre, where you can witness breathtaking views of the region's pristine lakes and jagged peaks.
---
Colca Canyon, Peru:
If you seek a different kind of hiking experience, head to Colca Canyon in Peru, one of the world's deepest canyons. Trekking through this natural wonder allows you to witness the soaring flight of Andean condors and discover traditional Andean villages.
The challenging trek takes you down into the canyon's depths, where you'll be rewarded with stunning landscapes, hot springs, and the chance to immerse yourself in the rich cultural heritage of the Colca Valley.
---
Cocora Valley, Colombia:
Nestled in the heart of Colombia's coffee region, the Cocora Valley is a trekker's paradise. Known for its towering wax palm trees, which can reach heights of up to 60 meters, this lush valley offers enchanting trails for all levels.
Explore the cloud forests, cross picturesque rivers, and hike amidst the awe-inspiring landscapes. Don't forget to sample the region's famous coffee and immerse yourself in the vibrant local culture.
---
Escape to paradise with our latest article on the 5 Best Caribbean Islands! Discover the idyllic beaches, vibrant cultures, and stunning natural beauty that these tropical gems have to offer.